Join our affiliate program and earn cash by promoting PowerPlayer lottery software on your web site. Every time you direct a consumer from your site to ours, you earn money when that consumer makes a purchase.
RegNow affiliate program is free to join and easy to use. As a publisher, you place our links (e.g., banners or textual links) on your web site. When a visitor to your site clicks on the link and makes a purchase at our site, you earn 30% of each sale.


Please contact us to get more commission!!!

What is RegNow?
Our affiliate program implemented via RegNow (check out www.regnow.com for more information), our vendor ID is 39683, RegNow provide us and many other software vendors around the world with a safe and effective online purchasing solution. By outsourcing our e-commerce to RegNow we can be sure that our valued affiliates will benefit from the best affiliate program available.

How to be an affiliate?
Start with visiting Regnow.com at https://admin.regnow.com/app/signup/affiliate. Complete an online sign-up form, you will receive affiliate ID via email. Joining is free and getting started is simple, RegNow porvides a safe and effective online purchasing solution. Get custom build of our products and start make money!

What is a Custom Build?
We offer Ccustom builds of all our products. Here is a working example of how to best take advantage of this feature:
· A customer finds our product on your web site.
· The customer clicks the download link for our product on your web site.
· Part of the link contains your affiliate id (links listed below).
· The purchase URL contains your affiliate id.
· The RegNow download wizard then downloads the custom build of our product.
· The customer then installs our product.
· The customer trials our product.
· The customer decides to purchase our product.
· The customer clicks a purchase button within our product.
· Our product finds the purchase URL in the customer´s registry.
· Our product opens a browser window and loads the purchase URL.
· The customer buys our product and you get 30% commission for each sale.
· Should the customer purchase through a link on our web site, you will still gain your commission.

Please contact us if you want to get a custom version support@magicrsoft.com


High conversion rate !!!

The following screenshots are our RegNow sales report (12/15/2012 - 12/29/2012)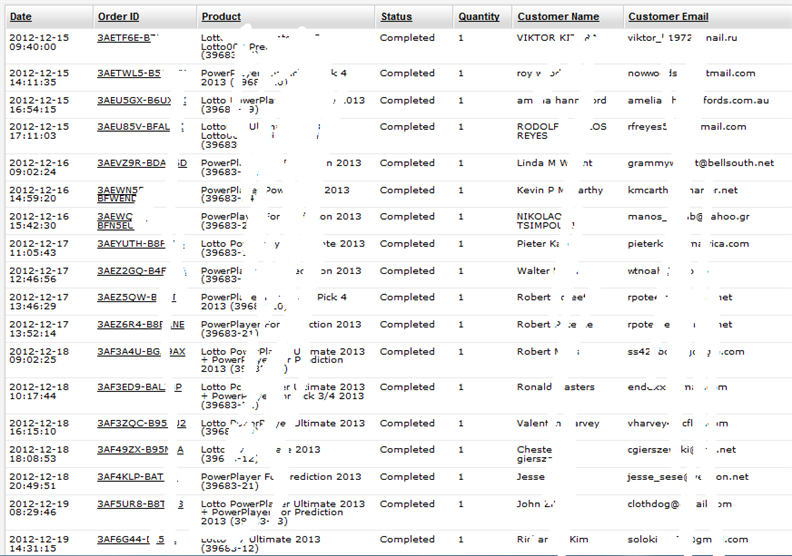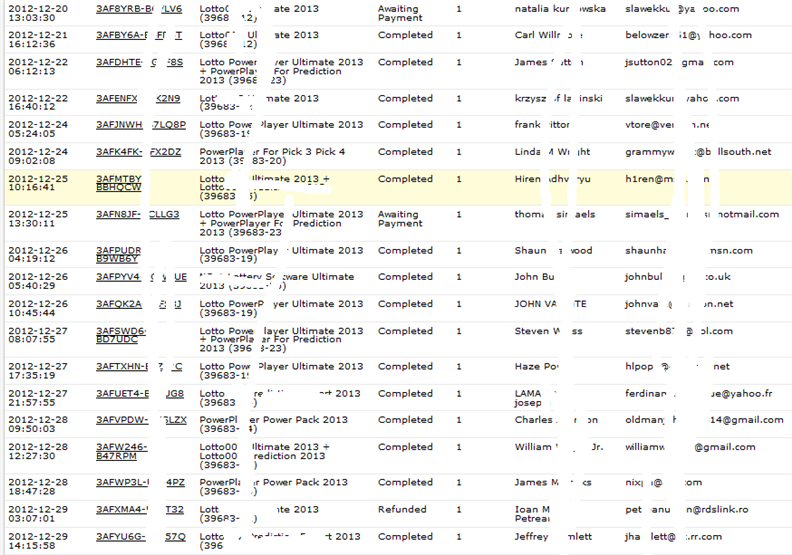 The following screenshots is our site magicsoft.com traffic (12/15/2012 - 12/31/2012)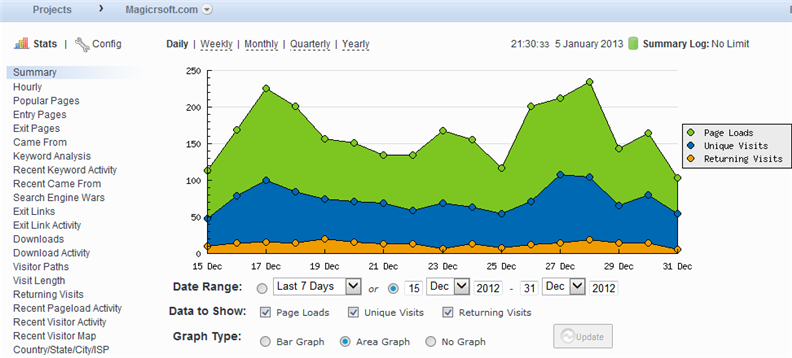 Products

Affiliate Information

Products

RegNow ID
PAD File

Lotto PowerPlayer Ultimate 2013

39683-19
http://www.magicrsoft.com/powerplayerpropad.xml

PowerPlayer For Pick 3/4 2013

39683-20
http://www.magicrsoft.com/powerplayerp3p4pad.xml

PowerPlayer For Prediction 2013

39683-21
http://www.magicrsoft.com/powerplayerforprediction.xmll

Lotto PowerPlayer Ultimate + PowerPlayer For Prediction

39683-23

Lotto PowerPlayer Ultimate + PowerPlayer For Pick 3/4

39683-22

PowerPlayer Power Pack (Lotto PowerPlayer Ultimate + PowerPlayer For Pick 3/4 + PowerPlayer For Prediction

39683-24
Lotto PowerPlayer Ultimate 2013 Affiliate Purchase URL:
http://www.regnow.com/softsell/nph-softsell.cgi?item=39683-19&affiliate=xxxxx
PowerPlayer For Pick 3/4 2013 Affiliate Purchase URL:
http://www.regnow.com/softsell/nph-softsell.cgi?item=39683-20&affiliate=xxxxx
PowerPlayer For Prediction 2013 Affiliate Purchase URL:
http://www.regnow.com/softsell/nph-softsell.cgi?item=39683-21&affiliate=xxxxx
(Where xxxxx is your RegNow Affiliate ID)
Generate Image Link:


119 * 89





120 * 240







250 * 300








468 * 60








720 * 90




(Where xxxxx is your RegNow Affiliate ID)